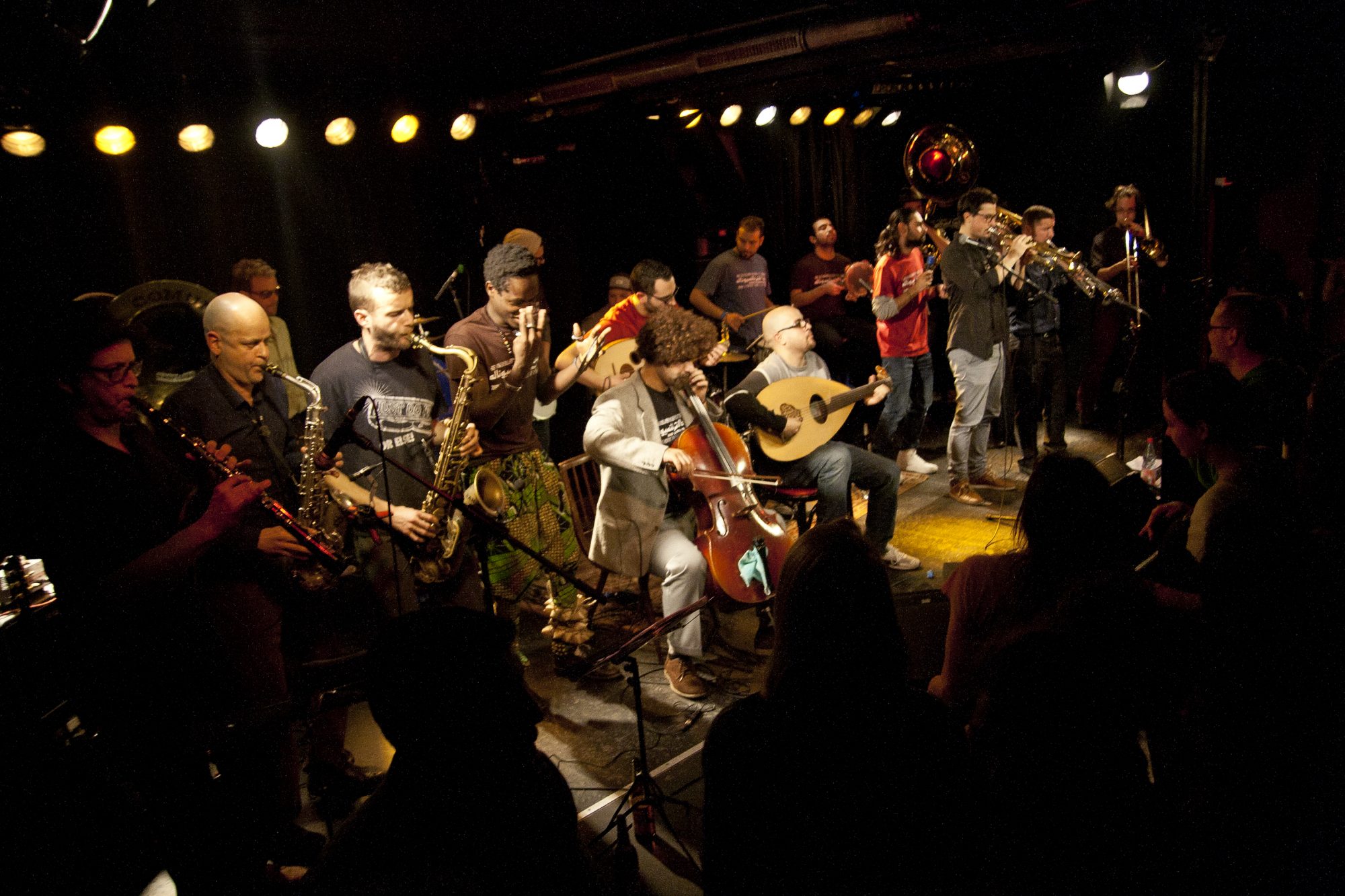 Banda Internationale
Brass World Music Collective from Dresden/Germany
Banda Internationale
After staging more than 40 concerts against PEGIDA, against "No-to-Homes" initiatives and on behalf of refugees in the first admission centers in Dresden and the surrounding area, we decided to go a step further; in 2015, we started the project "Banda Internationale" with refugees from our city, and we are carrying on this year as a regular band.
In cooperation with 9 professional and amateur musicians from Syria, Iran, Iraq, Palestine and Burkina Faso, "Banda Internationale" has produced a concert programme combining music from the countries of origin of all involved, from Syrian pop songs, to traditional pieces from Lebanon and metal vibes from Iran. The target group of this project is not limited to refugee musicians – although we help them to find instruments, provide rehearsal rooms and assist in any way we can with everyday problems.
But more than this, with music we hope to enhance our and our fellow citizen's commitment to helping refugees transition to life in Germany. We want to demonstrate the positive effects of migration and how it can enrich and enhance the lives of those already living here. By doing this we hope to reduce and ease the fear of those arriving, to help them dance into life here rather than walk!
Last year, our now 20-member collective won numerous prizes and played more than 60 concerts.
We performed at the 100th German Katholikentag in Leipzig, the Saxon Kulturtagen in Wroclaw/Poland and the Heimatsound Festival in Oberammergau/ Bavaria. We also appeared at the Kunstfest in Weimar, the Jewish Achava Festspiele in the Thuringian parliament and the Morganland Festival in Osnabrück.
In 2016, we were awarded the BKM-Preis by cultural minister Monika Grütters, and we were recognized by Sächsischen Förderpreis für Demokratie, dem Sächsischen Preis für Soziokulturelles Engagement and singled out as Ausgezeichneter Ort in Deutschland, Land der Ideen by the Deutsche Bank.
For us, however, our most important concerts took place in towns like Freital, Bautzen, and Plauen, which have become synonymous with publically accepted xenophobia and rightwing extremist attacks. This is what we continue to see as our most important work, and from now on, we will make music against rightwing extremism, prejudice, and exclusion with twice the force.