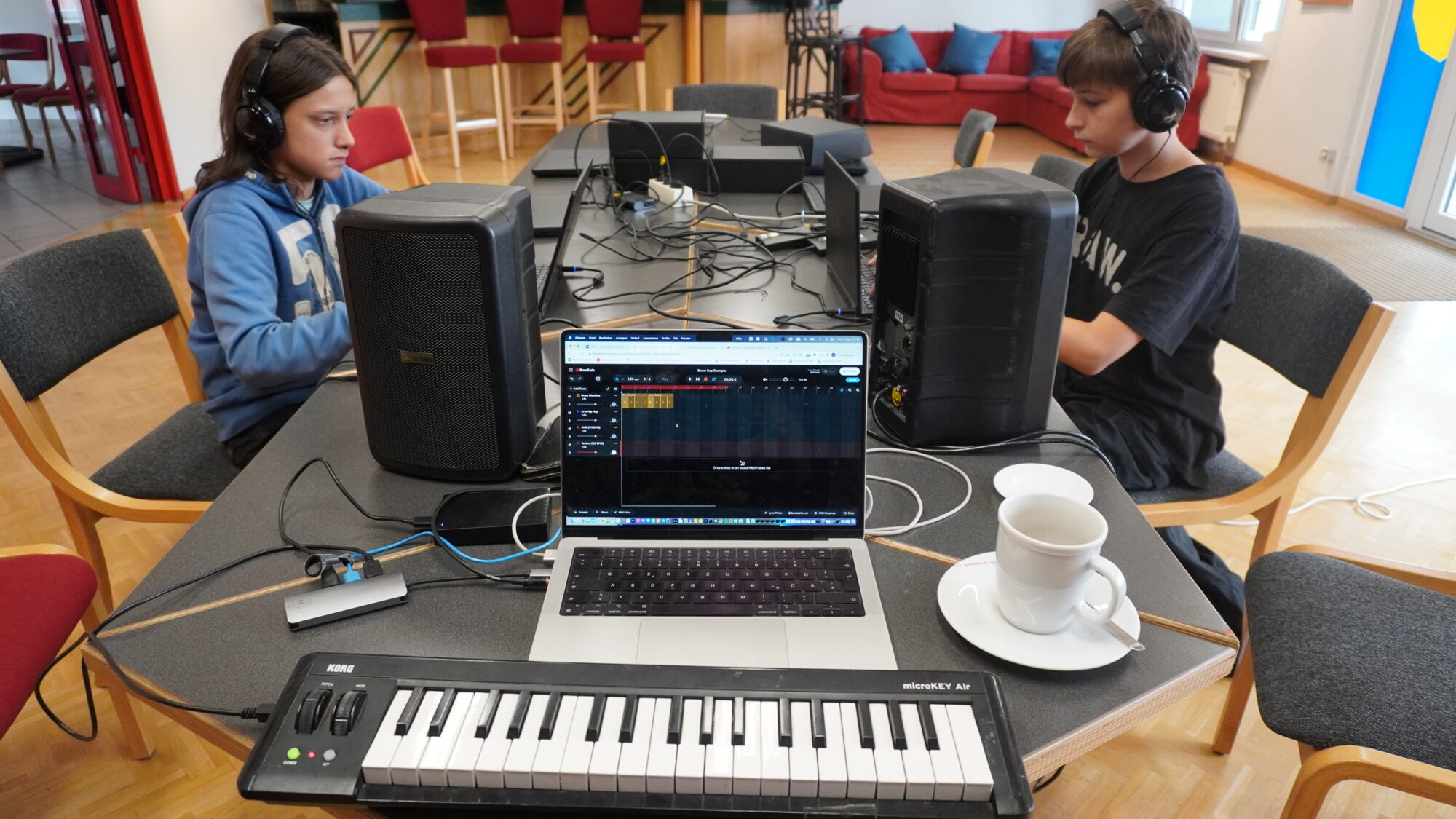 Workshop: Music Production
Music Production (Workshop or Course)
How can I produce my own music? – Be it pop, hip hop, electro, trap etc. or your own sound collages or music for scenes, dance or small animated films or computer games. In this workshop you will get the tools you need to realize your musical ideas and learn a lot about music at the same time.
First we find out what music young people want to hear and produce. With the help of the loop station, I will show you step by step how to build up a musical motif and what variations are possible. In joint musical improvisation games, we develop a feeling for beat, bass and motif.
In the next step, we learn how a music producer thinks and acts. To do this, we look at a DAW (Digital Audio Workstation) and its basic functions. How does a step sequencer work? How do I build a beat? What is the piano roll? What are virtual instruments? What is a sampler? How do I record my own samples? How do I use other samples? How is an arrangement structured? What are breaks, drops and transitions? What is a hookline? How do I create tension in my track? How do I release the tension? How do I cut music? Can I record my voice? Can I place a text? How can I work on the sound? How do I use effects? How do I use the equalizer and pan controls and other basic tools to create a good sound?
Requirements: Smartphone, tablet or PC, internet connection – No previous musical knowledge necessary.
I use Bandlab.com as an educational tool. A web-based DAW, which I find to be a good introduction to the world of music production.
Duration: 1 day – 10 days
Beats Teens: SANTIAGO

0:45

Beats Teens: Alexa_Beat_248

1:36

Beats Teens: FloPo11s_Beat

0:56

Beats Teens: Project_beet

0:54

Beats Teens: Alex_Techno

0:48

Songs Teens: Just_Happy

4:25

Songs Teens: Johanna

1:41

Music for Games: Projekt_Jakob

2:04

Music for Scenes: JO_MUSIK_PUPPEN

4:12
References
I have been giving the course regularly since 2019 either as an intensive vacation course (e.g. Steinhaus Bautzen – Pop2Go Camp; vacation courses at the Dresden Youth Art School) or as individual support (analog or online) for young people who are interested in music production. My goal is always to recognize the musical preferences and ideas of the participants and to support them individually in realizing them. Some of the participants had previous musical knowledge. Most of the participants were between 11 and 16 years old and generally had no previous musical knowledge or no contact with musical training. Here are some sound examples that have been created by the young people with Bandlab in recent years