ArYstan (b. 1983, Greifswald, Germany) is a musician, composer and DJ. He is a multi-instrumentalist, specializing in the trumpet, percussion and vocals, including beatboxing. He began playing the trumpet at an early age, and during his teenage years became interested in deejaying and beats production. After high school, ArYstan moved to Madrid—a city that had a strong influence on his musical evolution. In 2005, he returned to Germany to study the Jazz trumpet as student of renowned performers Till Brönner and Malte Burba at the Carl Maria von Weber Conservatory in Dresden.
Since then, he has travelled extensively throughout Spain, Italy, Morocco and India, perform and experience various musical genres, all of which have shaped his musical style. He is most influenced by Jazz, Hip Hop, Funk, Latin, Afrobeat, Balcan, Flamenco, World Music, Gnawa, Ambient and Electronic Music.  He started incorporating "live looping" (real-time recording and playback of music) into his performances in 2009. His solo project "ArYstan" evolved from this experimentation—a symbiotic mix of all the sounds, instruments and styles that have influenced his musical journey.
He has performed at several music festivals and has been featured on recording productions all over the world. Aside from his solo projects, ArYstan is an active member of the intercultural music collective, "Banda Internationale." He speaks German, English, Italian, Spanish and Russian.

How do I put all that stuff musically together?
100% Live
No Prereccorded Stuff
100% Improvisation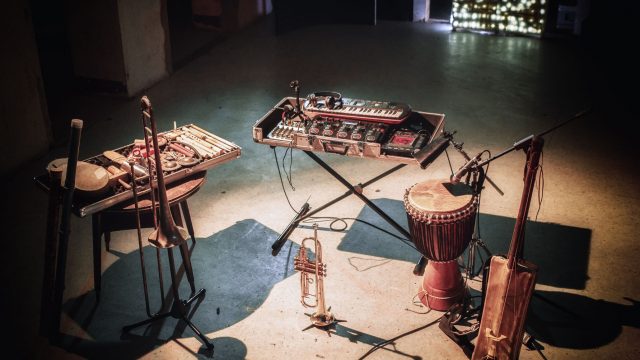 The Complete Setup
Electronics: Loop Station Rc-505; Kaoss Pad 3; Electro Harmonix Octave Multiplexer; 4 Channel Input Mixer, Casio SA-78, Mics: Shure Sm58 Beta, Sm-57
Percusion: Djembe (handmade/Senegal) , Cajon (handmade/Spain), Kanjira (handmade/India); Shaker, Tambourine, Triangle, Karkabou (Moroccan Castanets);Clave, Woodblock, Guiro, Jew´s Harp
Brass and Wind: Trumpet (Adams), Flugel (Courtois), Trombone (B&S), Didgeridoo (Recycle Instrument), Flutes, Zurna (Turkey), Duduk (Recycle Instrument) 
Voice: Beatbox, Vocal Percussion, Konnakol, Throat Singing, Overtone Singing, Choral Singing
For traveling I use a more reduced SetUp that fits into a suitcase  🙂